Pool & Spa Maintenance From Parkland to Port St. Lucie
Fountain Blue Pools, Inc. offers comprehensive spa and pool maintenance from Parkland to Port St. Lucie. A pool can be a daunting task, and not many pool owners enjoy adding and monitoring chemicals, cleaning tile, and many of the other tasks that this type of service requires. Let us come to you for weekly visits that will keep your spa or pool in balance and sparkling all year long.
For your convenience, we offer full-service maintenance programs adapted to your needs and budget. We also offer a chemical program that provides reduced services for those who prefer to do the manual work on their own. To learn more about these programs, see the information below. To get pricing for any of our pool maintenance services, give our office a call 561-969-2299 option 3. We'll be glad to talk you through the details.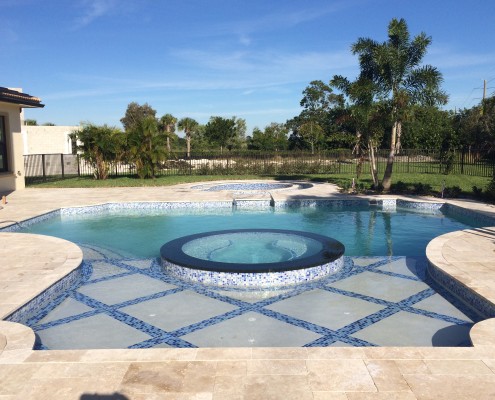 Our Pool Maintenance Programs
Taking proper care of a pool or spa is important. Ignoring the state of your pool will cause your filters to jam and your equipment to wear out. Before you know it, you'll need expensive pool repairs. Safety is also an issue, as water can harbor bacteria and other undesirables if not kept in balance with chemical treatments designed to keep them at bay.
If you are searching for someone to handle the maintenance tasks for you, we are proud to offer two distinct options for pool and spa maintenance service: our full-service program and a chemical program.
Our full-service swimming pool care programs include the following:
Weekly visits

Check and rebalancing of chemicals

Brush pool interior

Clean tile perimeter

Net pool

Check and empty pump and skimmer baskets

Vacuum pool

Clean filter cartridge once a month
If you have the time and desire to maintain your own pool but prefer avoiding transportation, storage, and handling of potentially hazardous chemicals, we also offer a weekly chemical maintenance program.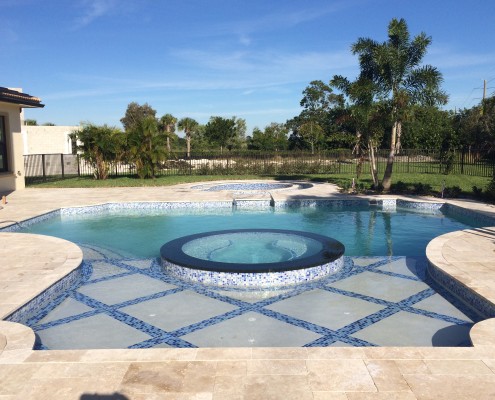 Our chemical programs include the following:
Weekly visits

Check and rebalancing of chemicals

Clean filter cartridge once a month
Call our office now if you're ready to schedule regular maintenance for your spa or pool, and we'll get you on the schedule.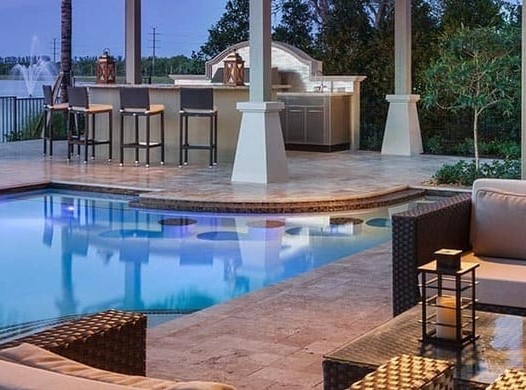 Pool Maintenance Staff
Fountain Blue Pools, Inc. has a dedicated, reliable pool maintenance staff that will keep your pool in tip-top shape quickly and efficiently on an established schedule. Whether you are just receiving basic service or you are a full-service customer, we make sure you get what you pay for!
Our maintenance workers are on time, do the work they are contracted for, and exhibit a friendly, professional attitude while they are at your home. Every one of them is trained and experienced, so you know you're getting excellent service. To get set up with a spa or pool maintenance program that suits your needs and budget in the South Florida area, give us a call. We'll get you set up in no time.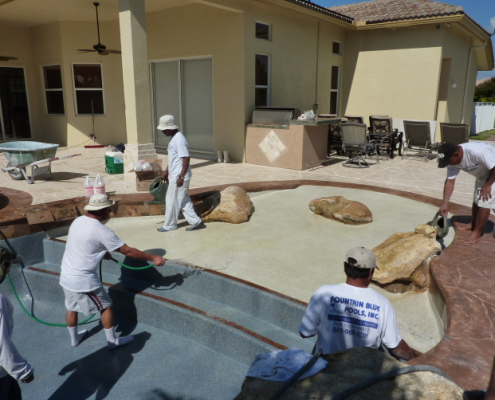 The Areas We Serve
"From Parkland to Port St. Lucie"